S&P Analysis Week of 11/15/2020: New All Time Highs?
S&P Analysis Week of 11/15/2020: New All Time Highs?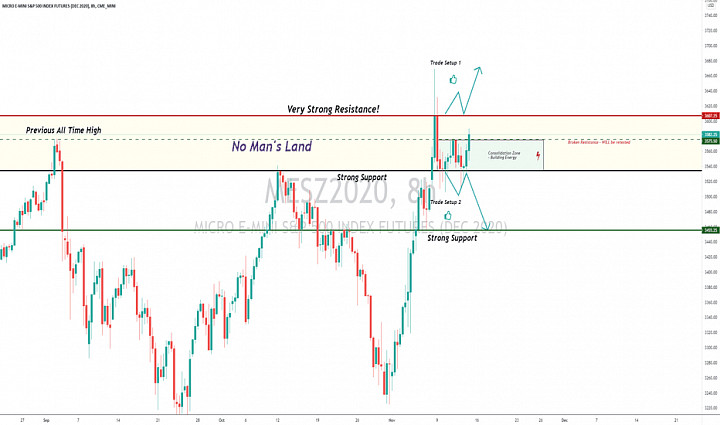 Will the market make new all time highs or will it dump and start its correction leg lower?

Last week the market made NEW all time highs after pulling back. The week ended green and price spent most of the trading sessions consolidating (building energy for the next leg up or down).

This week the variables are much simpler than previous weeks. My bias is more towards the upside because on Friday we closed above a very important resistance level (3575 - the previous all time highs). This was a zone that price had trouble getting above but finally accomplished it at the end of the week.

Although my bias is to the long side, I have trade setups for both the long and short so I can take the trade the market gives me. I don't try to force trades.

My Trade Setups:

Trade 1: Get above last Monday's break down candle (~3607 with retest) and we are likely to make NEW all time highs. I know people really doubt this scenario and have been shorting the market again. Look at my rationale below.

Trade 2: Get below last week's strong

support area

(~3435 with retest) and we are likely heading down for the next correction leg.

Keep in mind the area I marked as
NO MAN'S LAND
. I would not be taking a new trade within this area.
DO NOT PLAY THE BREAKOUTS.
Last week was a great example of why you don't play the breakouts. More times they either come back down for a retest of the breakout area, or they become failed breakouts. Wait for the retest and resumption in the direction of your trade.
Rationale: The reason why I have the strong resistance where I have it (~3575) is because price loves to retest the top of breakdown candles and the bottom of break up candles. Once price begins climbing the breakdown candle, the higher they go, the easier it is price will reach the top (it acts as a magnet). It is very likely this week that price will reach the top of this breakdown candle and find heavy resistance. You'll usually see price pullback some after getting to that point. It rarely breaks out on the first try.
Getting above this heavy resistance will allow price to breakaway and could form new all time highs. This is why I have that area marked as strong resistance and why you can take the trade above this (after a retest). The previous all time high might act as some resistance but by then it should be easy to break.
Good luck trading.
"When it feels really wrong, it's probably right. When it feels really right, it's probably wrong."
Please support my chart by hitting the like button. Thank you.