December 20 Market Update | Technical, Fundamental, News

December 20 Market Update | Technical, Fundamental, News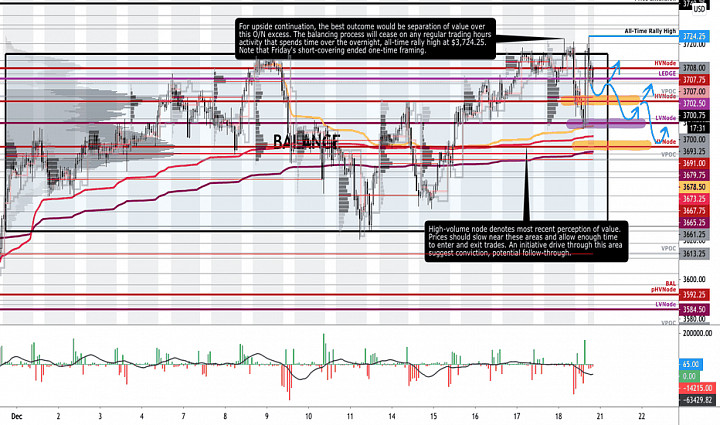 Description:

An analysis for the week ahead.

Points of Interest:

$3,740.75 and 3773.75 price extensions, $3,724.25 all-time rally high, the micro-composite HVNode at $3,707.75, $3,691.00, and $3,667.75, as well as the $3,680 LVNode and poor structure near the $3,625.00 balance-area low.

Technical:

Amid last Friday's selling, responsive buyers surfaced at $3,680.00, a low-volume area that denotes directional conviction.

Given that the higher-time frame breakout remains intact and selling appears measured, participants must monitor whether the S&P 500 holds above the $3,680.00 low-volume area. Auctioning below that reference would denote a change in conviction. Participants would then look for a response at the high-volume area near $3,667.75. Initiating below that area would likely portend rotation, further balancing.

Fundamental:

After Bitcoin breached $20,000, Scott Minerd of Guggenheim Investments suggested the digital asset could auction much higher. https://bloom.bg/3mEbUOp

It's based on the scarcity and relative valuation such as things like gold as a percentage of GDP. So you know, Bitcoin actually has a lot of the attributes of gold and at the same time has an unusual value in terms of transactions.

Simply put, Bitcoin's scarcity, combined with easy monetary policy , should push the currency as high as $400,000, Minerd believes.

Key Events:

Monday: Chicago Fed National Activity Index.

Tuesday: GDP Growth Rate, Core PCE Prices, Corporate Profits, GDP Price Index, PCE Prices, CB Consumer Confidence, Existing Home Sales.

Wednesday: MBA Mortgage Applications, Core PCE Price Index, PCE Price Index, Personal Income , Personal Spending, House Price Index, Michigan Consumer Sentiment, Michigan 5-Year Inflation Expectations, New Home Sales, EIA Cushing Crude Oil Stocks Change, EIA Distillate Stocks Change.

Thursday: Durable Good Orders, Continuing Jobless Claims, Initial Jobless Claims, Jobless Claims 4-Week Average.

Recent News:

Fed's Daly suggests new stimulus bill will be 'unequivocally beneficial' to Americans. https://reut.rs/3mBjJ7E

Financial markets have largely priced-in 2021's positive outlook, economic recovery. https://bit.ly/2LUmR1H

Unpacking the driving force behind high-quality cyclicals in this stage of the recovery. https://bit.ly/3nDYV0m

Weaker debt issuers would be most at risk in the event of a severe global lockdown. https://bit.ly/2WutFVI

Anticipate benign inflation longer term due to higher rate of technological innovation. https://bit.ly/37BmNfJ

Italy has a patient with a new COVID coronavirus strain; nations banning UK flights. https://bit.ly/3rfwjNd

In 2021, collateral quality will continue to decline while structures adapt to downturn. https://bit.ly/2KFZM23

'Extraordinarily Easy': U.S. final conditions are very accommodative, per Bloomberg. https://bloom.bg/3nEET5X

2021 Outlook: The speed and extent of recovery will vary by asset class and region. https://bit.ly/3pbr4wo

Infrastructure could be the catalyst the global economy needs to regenerate growth. https://bit.ly/2WuswNU

China on track to become the world's biggest refiner with 20 mil b/d capacity by 2025. https://bit.ly/3mD7jMv

IEA Coal 2020 report displays recent global and regional trends in demand and trade. https://bit.ly/38pfA1d

IEA Energy Efficiency 2020 report displays global developments in energy efficiency. https://bit.ly/2KFxXaj

The U.S. Congress finalizing a $900 billion COVID-19 aid package, but votes not set. https://reut.rs/38o0lWA

Leverage debt issuers will continue to stabilize from virus, but default rates may rise. https://bit.ly/2WuvemJ

Globally systemically important banks' growth may herald growing risks, Fitch says. https://bit.ly/3pbFjB6

FDA authorization of Pfizer Inc's (NYSE: PFE ) vaccine is a credit positive for the firm. https://bit.ly/3mBYp1B

Walt Disney Co (NYSE: DIS) updated subscription guidance for its Disney+ higher. https://bit.ly/3mBYp1B

With collateral still weak, CLOs will incorporate flexibility for managing stressed assets. https://bit.ly/3p78Dc7

First-day IPO pops leave billions on the table, raising questions about pricing methods. https://bit.ly/38ntzVp

The U.S. has added dozens of Chinese companies including SMIC, DJI to a blacklist. https://reut.rs/2WA1Lrj

Canada and Britain closing in on a deal to address post-Brexit tariffs, disagreements. https://reut.rs/34wOioz

Key Metrics:

Sentiment: 43.4% Bullish , 30.3% Neutral, 26.3% Bearish as of 12/16/2020. https://bit.ly/330VhEp

Gamma Exposure: (Trending Neutral) 4,436,633,610 as of 12/18/2020. https://bit.ly/2UpgtRE

Dark Pool Index: (Trending Higher) 45.1% as of 12/18/2020. https://bit.ly/2UpgtRE

Disclaimer:

This is a page where I look to share knowledge and keep track of trades. If questions, concerns, or suggestions, feel free to comment. I think everyone can improve, especially me.

In no way should this post be construed as investment advice.