ES1! SPX500USD 2022 FEB 21 Week
ES1! SPX500USD 2022 FEB 21 Week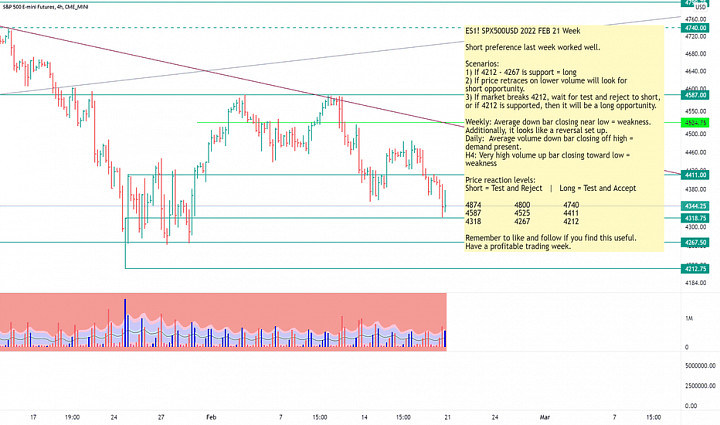 ES1!
SPX500USD
2022 FEB 21 Week
Short preference last week worked well.
Scenarios:
1) If 4212 - 4267 is support = long
2) If price retraces on lower
volume
will look for
short opportunity.
3) If market breaks 4212, wait for test and reject to short,
or if 4212 is supported, then it will be a long opportunity.
Weekly: Average down bar closing near low = weakness.
Additionally, it looks like a reversal set up.
Daily: Average
volume
down bar closing off high =
demand present.
H4: Very high
volume
up bar closing toward low =
weakness
Price reaction levels:
Short = Test and Reject | Long = Test and Accept
4874 4800 4740
4587 4525 4411
4318 4267 4212
Remember to like and follow if you find this useful.
Have a profitable trading week.