NQ - 4Hr / Retracement OR Reversal of Structure
NQ - 4Hr / Retracement OR Reversal of Structure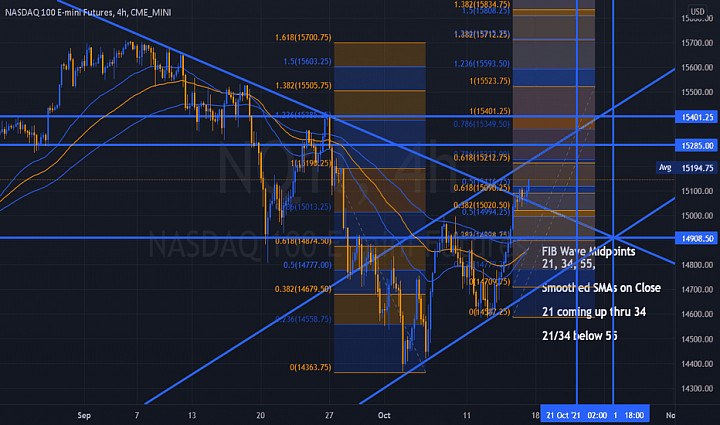 The Retracement we indicted as we approached the Lower Channel Boundary remains
in trade.

It has turned Short Term Indicators Bullish .

The question that remains on Traders' minds: Is this a Reversal, is the correction over.

Answer: It is unconfirmed by the Weekly TimeFrame . And until the Weekly confirms it thru
Mathematical Indications, it remains speculative Conjecture.

WAGs may prove to be correct, or not. Either way, it's imprudent at best.

Overthrows in Structures are common now, where technical indications were previously
respected - they no longer apply as the AIQC has a high degree of programmed intelligence
designed to CONFUSE TRADERS.

Splitting .500 and .618, or even running .618s prior to reversals is common. The BOTs Hunt Stops
and why not, it's an OPEN ORDER BOOK, they see it all, so taking your $ by running your Stop...
Cakewalk. Trailing Stops... are complete foolishness now. Watch a 30 Min Candle Trade... they
hunt stops religiously.

As TIme has crossed the Mid-Point of October, many traders are gearing up for the Seasonality
favoring the Holidays Rally.

We will patiently wait for confirmation as there are far too many events here that can and remain
in the high probability of going wildly wrong.

There are simply too many Vectors to overcome from our perspective and our Indicators have yet
to suggest it is time to make adjustments.

Can they?

Of Course.

Will they?

We don't know, none of "us" do.

So, we remain in .125% - .250% Size in treading shorter durations in Trend unit the Weekly Time Frame
clearly resolves, the Risks for us are unwarranted to comment significant Capital to the Long until
it proves out.

Were the ES to begin a 5/5 - the next Price Objective would be 5000.

Are we there yet?

No, "we" are not. A great many are... we'll cautiously trade the MIcro Trends until the Macros assert the
REAL DIRECTION.