Potential BARR on Silver Futures

Potential BARR on Silver Futures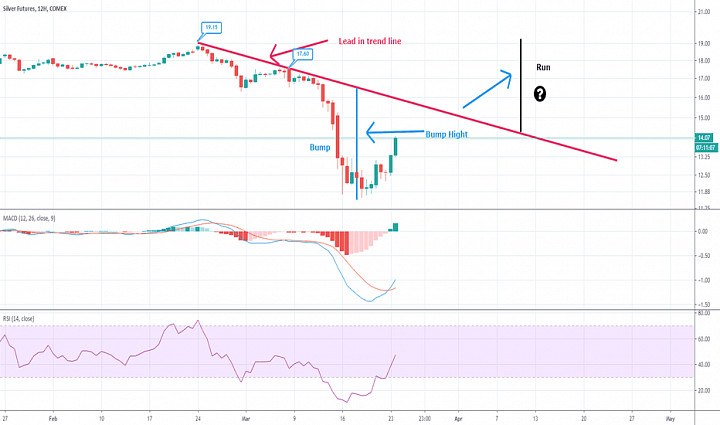 The BARR bottom is one of the best patterns that one can play for reliability and profit (according to Bulkowski http://thepatternsite.com/barrb.html) and I see a potential formation here. Paper silver and physical silver prices have decoupled and eventually the paper market must obey the physical market, and that gives us a move to the upside.


Lead in should be about a month, the average is about 35 days, but the there is a lot of variation possiblle. We have about a 20 day lead in, which is respectable but not perfect.

The lead in creates the lead in

trend line

which should flipp from resisntance to support.

The bump hight is the hight from the low of the bump to the lead in

trend line

.

For the bump and run to be confirmed the price action needs top pop above the lead in

trend line

and then test it as support. This can happen a couple of times, and so people can get weak hands as the price action bounces lower and lower. The question mark is on the chart is because we cannot know exactly where the final retest of the lead in

trend line



Target setting is either one of the tops that create the lead in

trend line

, which is shown, or about 76% of the bump hight. I cannot really show the target for that because the final land down still remains to be seen.

I am not a certified market technician, and I am not a financial advisor. But I can tell you what bulkowksi tells you, and investopedia can. Always wait for confirmation when testing a pattern because if you don't, you run the risk that the pattern will bust.
In addition to pure charting it is always nice to get some indicator verification. I hope to see all kinds of
bullish divergence
on the
MACD
and
RSI
as we go forward. I have not thrown the BB on the main chart because that can get noisy and obscure the BARR description but as you can see below it helps for target setting to the upside if you are playing the inverted
head and shoulders
formation I am going to link. The chart below could be its own post about
silver futures
moving to the upside, but I am kinda silver'd out right now when it comes to TA.