Bitcoin Price Action vs the CME Gap

Bitcoin Price Action vs the CME Gap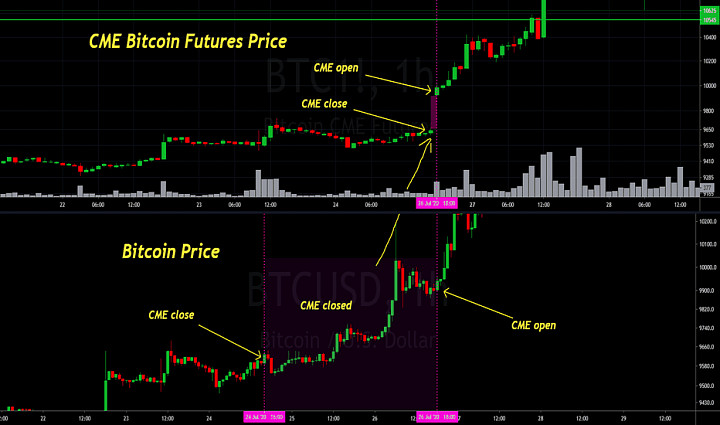 The reason I started looking into this is because I was wondering if there could be a scenario where the price of bitcoin could stay relatively close to $10K but the CME price when it opens on Sunday gaps down passed the price of bitcoin filling the gap from July then bounce back up to near the current price of BTC . The CME bitcoin futures price closed today at $10,620 so if

The upper chart simply shows the CME gap which formed from the close on July 24th to the open on July 26th and has yet to be filled. The bottom chart shows what the price of bitcoin did during the hours that the CME was closed causing the CME to respond with a gap.
I was curious how close the CME price came to the bitcoin spot price when it gaped, I was looking for any over shoot. Looking at the data it looks like the CME price gaped very close to the spot price with little if any over shoot.

It is possible that the price of bitcoin over the weekend could rise instead of dropping back to or under $10K. As close as the price is to the gap right now I feel pretty strongly that the price of BTC is more likely to drop so that the gap can be filled rather then take off higher from here leaving the gap unfilled.