GC1! Gold 2021 Dec 05 Week
GC1! Gold 2021 Dec 05 Week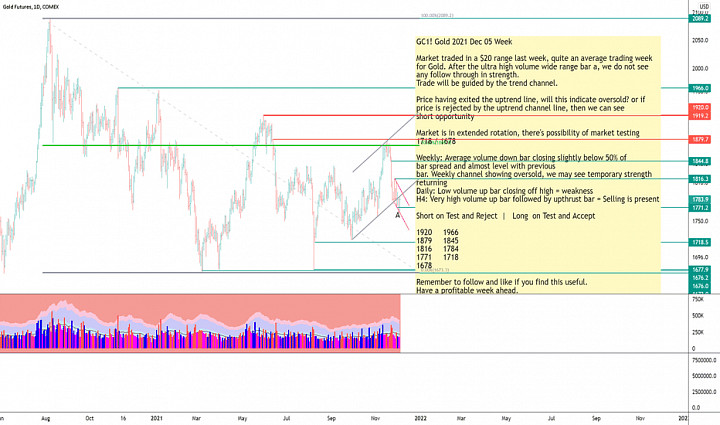 GC1! Gold 2021 Dec 05 Week

Market traded in a $20 range last week, quite an average trading week
for Gold . After the ultra high volume wide range bar a, we do not see
any follow through in strength.
Trade will be guided by the trend channel.

Price having exited the uptrend line, will this indicate oversold? or if
price is rejected by the uptrend channel line, then we can see
short opportunity

Market is in extended rotation, there's possibility of market testing
1718 / 1678

Weekly: Average volume down bar closing slightly below 50% of
bar spread and almost level with previous
bar. Weekly channel showing oversold, we may see temporary strength
returning
Daily: Low volume up bar closing off high = weakness
H4: Very high volume up bar followed by upthrust bar = Selling is present

Short on Test and Reject | Long on Test and Accept

1920 1966
1879 1845
1816 1784
1771 1718
1678

Remember to follow and like if you find this useful.
Have a profitable week ahead. GC1!