Identifying continuation patterns
Identifying continuation patterns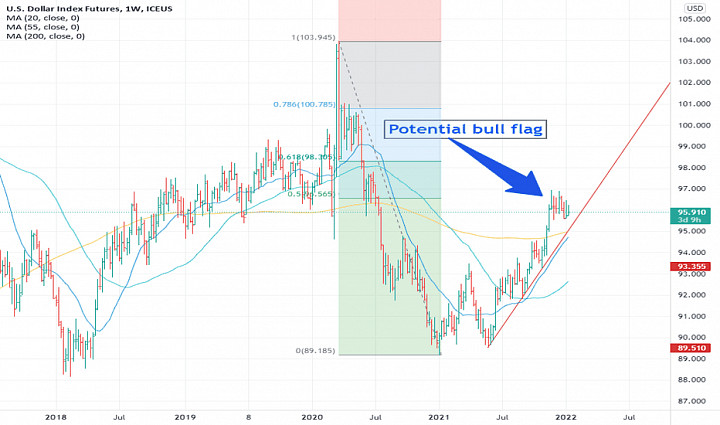 Scrolling around some charts this morning, I came across an example of a potential bull flag on the weekly US Dollar Index . Bull flags occur when a market has rallied strongly higher and this is followed by a short period of consolidation, think about what a flag attached to a flagpole looks like and this is essentially the pattern. They are complete when the market closes above the top of the flag.

Being able to identify some basic technical analysis patterns can really help in your trading decision making. A bull flag suggests the break, as the name implies, should be to the topside. Patterns can help you decide whether to maintain a long position and just as importantly when to add to it. A close above the top of the flag will complete it and the 'flagpole' will give you an upside measurement or target for your trade.

On this example a close above 97.00 would complete the flag pattern and offer an upside measurement to 100.00 +

Disclaimer:

The information posted on Trading View is for informative purposes and is not intended to constitute advice in any form, including but not limited to investment, accounting, tax, legal or regulatory advice. The information therefore has no regard to the specific investment objectives, financial situation or particular needs of any specific recipient. Opinions expressed are our current opinions as of the date appearing on Trading View only. All illustrations, forecasts or hypothetical data are for illustrative purposes only. The Society of Technical Analysts Ltd does not make representation that the information provided is appropriate for use in all jurisdictions or by all Investors or other potential Investors. Parties are therefore responsible for compliance with applicable local laws and regulations. The Society of Technical Analysts will not be held liable for any loss or damage resulting directly or indirectly from the use of any information on this site.