ES - 1 Hour
ES - 1 Hour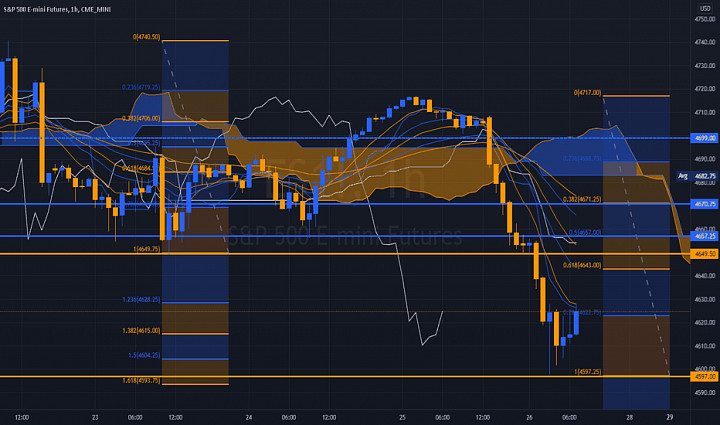 Globex quickly became the Kill Zone and did not stop.

The Over-Valued, Over-Leveraged, Over-Indulged Indexes
are catching the Panic Trade.

Although NQ has yet to break the 3rd test of the lows, IF
it does, - Oh my.

YM tagged the Upper Trend Line and Failed dramatically.

Ranges in ALL INDEXES expand dramatically prior Ranges.

Gap Fills below will be either a Direct or very choppy affair
with large retracements possible. For now, 50%'s have held.

.382s may be it hereafter unless these "Accidents" continue to
occur during Globex.

Price traded well below the Price Objective, confirming the
Bearish engulfing after 2 moves to the Fill at the 50%.

The VIX remains the leader with the 50 SMA / 200 SMA Cross
providing Support. The VIX is highly technical and provides all
the Indications needed for RTs and Extensions.

The Big 7 remains in relative Strength , for now, we will see how
long this lasts.

__________________________________________________________


Bonds caught the Bid after the largest Off Sides Position since January.

DX and Bonds, perhaps GOLD will catch a Flight to safety Bid.

Crude Oil - smoked. Price Objective now 72.08 down to 67.


__________________________________________________________


4583.25 remains the Price Objective at the Lower Boundary for Today.