FCPO TRADING : 314) reversal of trend, invalid bearish bat
FCPO TRADING : 314) reversal of trend, invalid bearish bat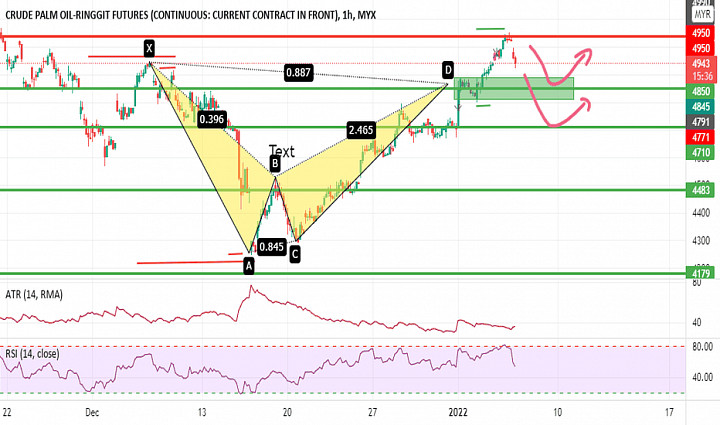 this is haidojo and the number is 314 ...

Merry Christmas and Happy New Year ! Today is 6th Jan 2022 and fcpo-March22 is still the active third month. This is the first post this year. The previous bearish bat pattern is no longer valid as the "X leg" is violated. Yesterday, fcpo-march22 not only broke abv the resistance of 4850 but also retest the previous higher-resistance at 5040. Hence, by doing so, the price has broken abv the previous lower-highs at 4950 and 4914 and a "bullish rotation" is said to have had happened. Now, the tide has changed and the new preference is going for the "long on the dip". The first "killing zone" to lookout is ranging frm 4890 - 4810 with the solid support at 4845-4850...If you have observed dearly, this is the first "resistance-turn-support" region to look out for. The next support to look at is ranging frm 4730-4710.

That's all for the update today.

*plan your trade and trade your plan... gud luck*

resistance : 5040

support : 4810-4890

WARNING!
RISK DISCLAIMER : this is juz a trading idea...trading stocks, futures , cryptos, warrants, CFDs, spreads, options or forex might incur a huge risk to your account/funds…DON'T LOSE MONEY THAT YOU CANNOT AFFORD…any idea(s) of trading in this episode SHALL NOT be regarded as a hint of BUYING or SELLING. It is MERELY a trading journal and it has been used for educational purpose only… trade at your own risk!