ES1! SPX500USD 2021 Dec 06 Week
ES1! SPX500USD 2021 Dec 06 Week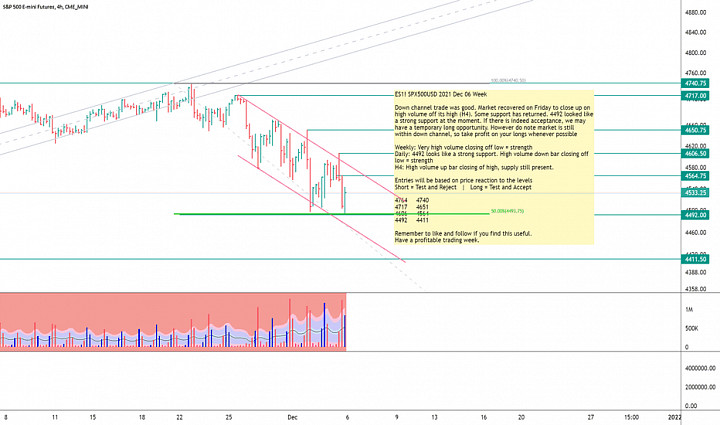 ES1! SPX500USD 2021 Dec 06 Week

Down channel trade was good. Market recovered on Friday to close up on
high volume off its high (H4). Some support has returned. 4492 looked like
a strong support at the moment. If there is indeed acceptance, we may
have a temporary long opportunity. However do note market is still
within down channel , so take profit on your longs whenever possible

Weekly: Very high volume closing off low = strength
Daily: 4492 looks like a strong support. High volume down bar closing off
low = strength
H4: High volume up bar closing of high, supply still present.

Entries will be based on price reaction to the levels
Short = Test and Reject | Long = Test and Accept

4764 4740
4717 4651
4606 4564
4492 4411

Remember to like and follow if you find this useful.
Have a profitable trading week.