UX1! Uranium Spot
UX1! Uranium Spot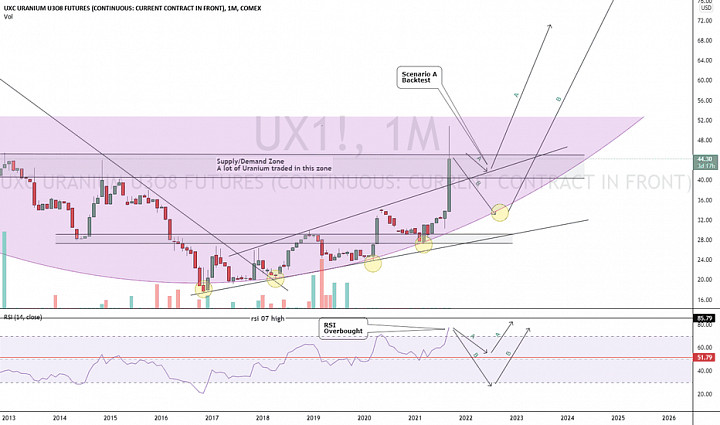 Uranium Spot is respecting the arc with multiple touches across the last decade.

At Present Uranium Spot has pushed through the supply demand Zone with is a very positive sign for the Uranium market bull case.

There are two scenarios I see playing out over the coming months in relation to Spot. The Uranium spot prices will either follow Scenario A marked on the chart and trades back into the Supply/ Demand zone , Backtests the broadening wedge breakout point and continues its trajectory.

OR

The spot falls back into the Wedge and comes back to re-test the ARC boundaries before finding support and continuing its run.

Option A will see months of consolidation IMO after the run Uranium has just had and could cool off the market in the near term,

Option B is a much longer consolidation period and could take the best part of 2022 to resolve and see interest return to the U market.

This could all change if Utilities get the finger out and actually start their contracting cycles which could see an overnight jump in the spot.

holding and adding to U positions as this resolves. Its a marathon not a sprint .