Will NQ Breakout Again? 11/24/2020

Will NQ Breakout Again? 11/24/2020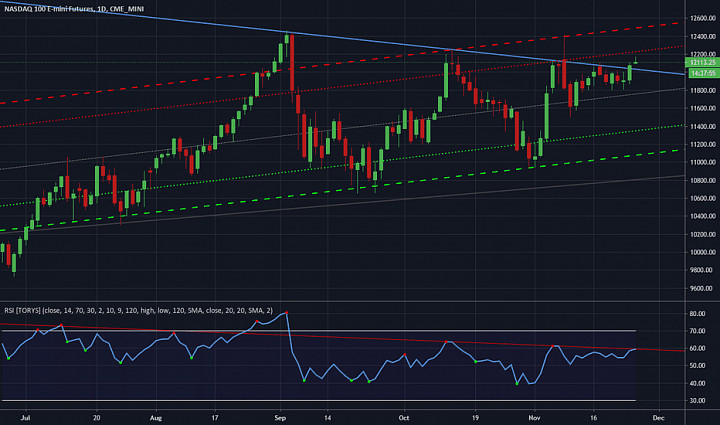 Eventually, just not in the short-term. NQ at the daily view.

The rotation from growth to cyclical stocks ramped up for the past month. Financials, energy, and industrial were among the most shorted sectors since April. When that rotation happened, those piled up shorts blew up all at once. The NQ did not rise as much (except for Tesla ) because tech still had bullish sentiment. That's because NQ has a reputation of being a bear graveyard since April. Tesla had a consolidation pattern going for nearly a month and it was still one of the most shorted stocks out there. And then another bear hunt drove the stock higher.

I am expecting a pullback for NQ again. When will it be? I don't know. It depends on the liquidity levels. NQ is not as overextended as ES or RTY. So, the pullback might be modest. In the bigger picture, NQ is in a consolidating pattern. When market breadth increases, that's when NQ might be dragged higher. After all, why buy really expensive tech stocks when non-tech stocks were at a discount? Also, another national lockdown is unlikely since the uncertainty of the virus has waned. That was the appeal of tech. They were great stocks during a lockdown. However, people have transitioned into living with the virus as the new reality.

Basically, if anyone wants to see a big crash, it would have to be a brand new black swan event with rotting market internals. That is not happening anytime soon.