NQ - Daily Perspective w/ TL's from February 2020 Low
NQ - Daily Perspective w/ TL's from February 2020 Low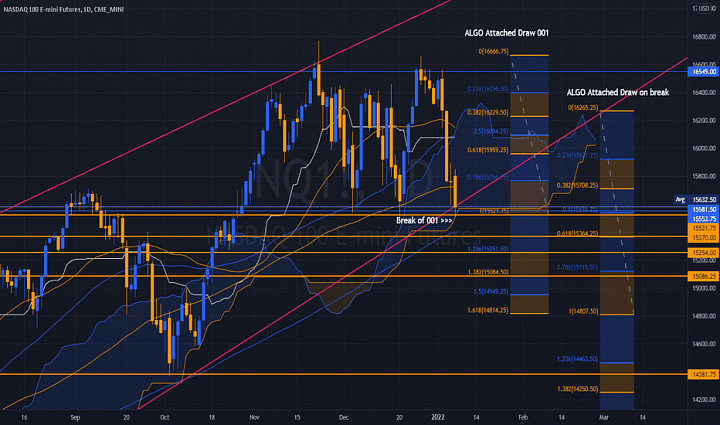 199K Payrolls at 424 Q4 Indicator

Leisure and Hospitality along with Technology Services
led the gainers by Sector.

NQ lost 4.7% for the start of 2022 - its worst week since February 2021.

A Rotation away from Growth due to ROC's in the 10 Year UST as forward
EPS is discounted forward.

Value, Financials, and Energy began an early rotation which may well be
faltering.

The FOMC Minutes indicated an acceleration to Tightening measures
and potentially offload portions of its Balance Sheet , namely MBS , RMBS
and UST's out the Curve.

BOA, WELLs, JPM , CITI are attempting to move higher ahead of January 11.

Technology is down 7.97% while Energy is up 8%.

_______________________________________________________________


Cyclicals, Services, Technology - have an overweighted TECH component.

Crypto has continued its decline, 42k was an important Level for BTC , it provides
a clear downtrend channel of lower highs and lower lows.

BTC has support at 37K, 33K, and 30K - it has not followed TNX as it has
in the past.

Risk-off in Cryptos, which provide a solid indication, speculation is being
curtailed in ALL Asset categories where Growth speculation was the front
forward component.

The NQ could trade down as much as 23% as we indicated in December,
an additional 15% from current levels.

14,100 should provide an interim Low, Traders will need to observe this level
with caution. It could Fail or Fail on a second test of the level.

Dips should not be bought until the NQ resolves to Lower Price Objectives into
Wednesday, they are not to be trusted IMHO.

We anticipate an eventual squeeze RT should the BLS Data Wednesday be used
for a Higher Fill into continued Selling.

The NQ could fall 12% - Patience will be rewarded and there is no hurry.

We will see for the 10Yr Yeidl responds by the, it may well make a small Pullback
providing a relief retracement for the NQ.