Can we think of a short outcome on GOLD ?

Can we think of a short outcome on GOLD ?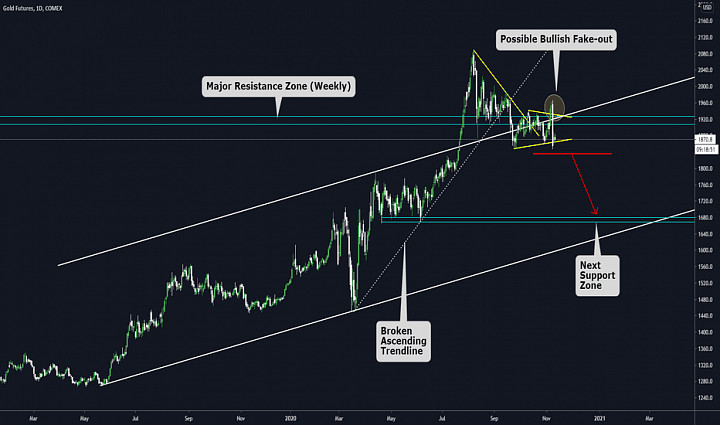 This post is aimed to provide a logical way of thinking of a short scenario on Gold .

a) The elements or tools we will use to understand what is going on here are Multi timeframe analysis + Support and Resistances + Trendlines + Corrective structures. Just that, let's start.

b) Take a look at the Weekly Chart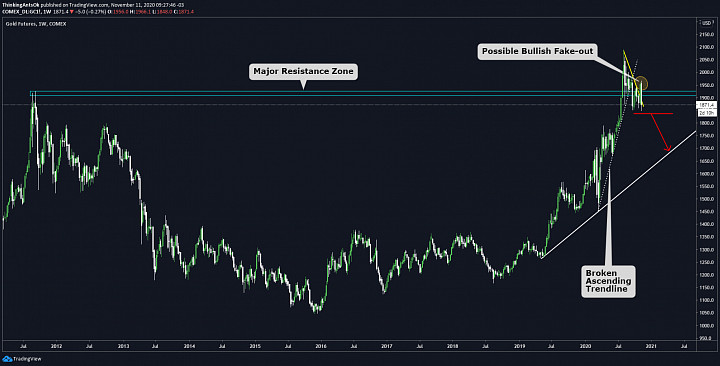 Using this as the Big view, we can deduce that the price Surpassed the Previous all-time highs zone and then went back below. When the price was going up again, breaking the corrective structure (we will see it better on the
Daily chart
),
Pfizer
told the world about their Vaccine, and, exactly there is where we can see the "Possible
Bullish
Fake out" We say possible because the week is not closed yet, we have more days until is finished.
c)
Now, we will return to the
Daily chart
. The
bearish
items we can see here are: Broken Ascending trendline + Reversal on a Weekly
Resistance zone
. If we take the idea that the price moves between zones of the same degree. We should expect a
bearish
movement towards the next relevant level. (in this case, the next
support zone
or the
ascending channel
)
d)
Are we saying that this will happen right now? No, we are not. We need a filter before taking the short view
e)
In this case, we will pay attention to the current corrective structure (the yellow lines that converge). If the price breaks below that level (on the red line), we can deduce that all the stops from people that take long positions will be executed and we have a clear path towards the next level.
f)
It is important to say that our Main view on
Gold
from a long term perspective is LONG; we don't consider this possible
bearish
movement we are waiting for as a signal of a new long term
bearish trend
starting.
g)
Remember: This type of views are maps of possible movements, are not statements of what should happen; use it as another view to have a broad vision of possibilities so you can make a more robust decision on how to act
Have a great day, guys!