Dax daily: 03 Jun 2020

Dax daily: 03 Jun 2020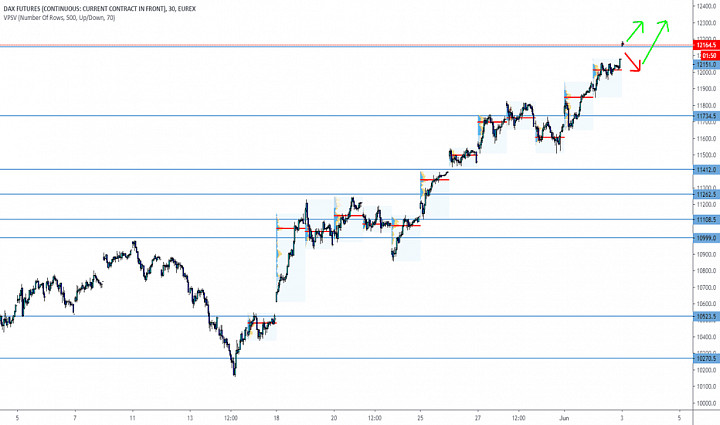 We anticipated a bullish move towards 12 151 in yesterday's analysis. Take a look at this lovely outcome. At the beginning of the session, sellers initially retested the previous day VPOC and buyers then took the price higher. The session was closed very positively and the volume of orders has also shifter higher. Hence the uptrend is a healthy one and bullish traders have reasons to celebrate.

Important zones

Resistance: 12 494
Support: 12 151, 11 734

Statistics for today

Detailed statistics in the Statistical Application

Macroeconomic releases

9:15 - 10:00 CEST - Eurozone PMIs

Today's session hypothesis

We have just seen two fully bullish days without any correction in price. Dax keeps going up and currently, there is no strong resistance in view. The nearest zone that might be worth considering by bulls is at 12 494 which is the price action level from the beginning of March. We still favour buyers but considering the price being at the current high, we cannot determine a good entry level and would rather await some correction to go long.