Crude Oil: Will it pursue its rally to 51.54?
Crude Oil: Will it pursue its rally to 51.54?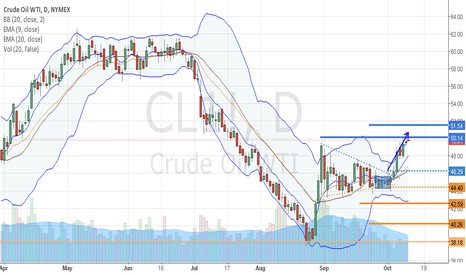 Last Friday, Oil ended its breakout week with higher highs, although closing in an inverted long legged doji. The commodity is slowing the pace, around 50.14, while it is still aiming at 51.54. The bollinger band are still widening, and the commodity is still being traded outside of those bands. It shows that the bullish movement was very strong.

A breakout of 49.09 will send Oil south to 48.64 as a primary objective. Only a retreat below 47.84 will reject the bullish movement, and send the commodity south, back to 46.29.

Breaking out 50.14, will send Oil back to re-visit last Friday's highs. It will have 50.4 as a primary objective. While Breaking out 50.92 wil send Oil up towards 51.54.

The daily Pivot Point is around 49.906. The daily support levels are around 48.89 and 48.15. The daily resistance levels are around 50.64 and 51.65.