Bearish Crossover: S&P 500 set to Sink like a Stone
Bearish Crossover: S&P 500 set to Sink like a Stone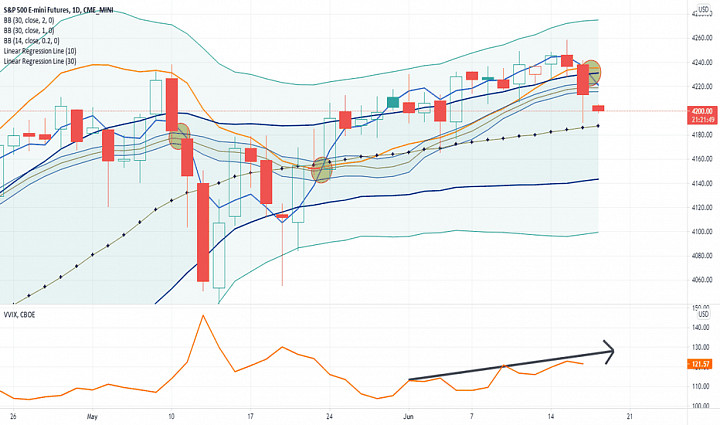 Previously, we rode two /ES Emini positions from the 4160's and the low 4180s past our target of 4230. See attached, which we closed last night, due to meeting our target and failure to properly break out.

Today, a bearish crossover was initiated - as the 10 Day Linear Regression Line has crossed below both the 30-Day Regression Line (weaker bearish signal) and is crossing (has fully crossed on Ninja Trader live calculations) the central trend ribbon - the 14-Day 0.2 STDV Bollinger Band . This has been a fairly decent signal on the hourly, but it has been quite robust on the daily. We are fully confident that our short from 4202 has great odds to make a substantial profit.

Finally, VVIX has been in an uptrend since at June 1. That is a long time to be in an uptrend in a so-called bull flag on the S&P 500 and obviously was signaling trouble ahead. And the VIX made a bullish crossover signal yesterday.