Jan14 2022 Market Profile
Jan14 2022 Market Profile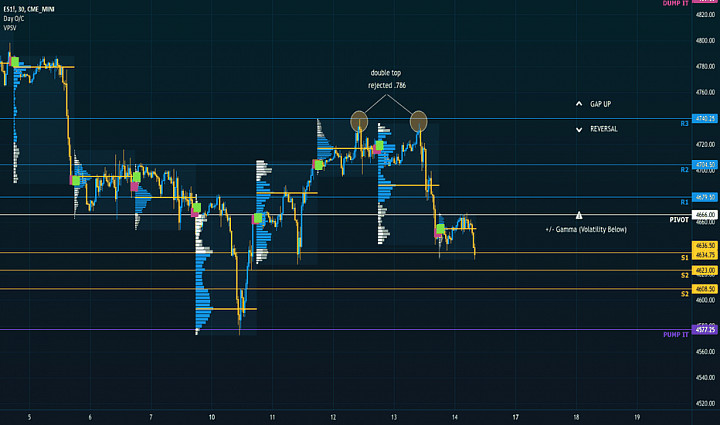 Interesting trading day yesterday. US500 rejected the . 786 retracement from the FOMC selloff downtrend in a double top at ~4740 that would have seen a gap up to ~4780.

Other traders pointed out a massive 3k order waiting to be filled at 4650 yesterday that acted as a magnet for the markets. That was a couple of points below the Gamma flip from positive to negative for dealers.

This morning's trading was up after hitting support last night but sold off again this morning as the gamma pivot zone was sold.

Bulls will be looking to recapture the gamma pivot and base between R1 and R2 before attempting a 3rd run at R3.

Bears will want to use the added volatility from flipping to negative dealer gamma to break through these lower retracement levels and make a significant push through lower supports and eventually below the lower Bollinger band .

You can see how the ranges are expanding in weekly changes in SPX very similar to how Mar 2020 expanded. Many macro analysts are starting to make similarities in vol space to spring 2020.

My theory is the 3k order is some big whale front running JAN19 OPEX as I outlined in my JAN BullvsBear theory.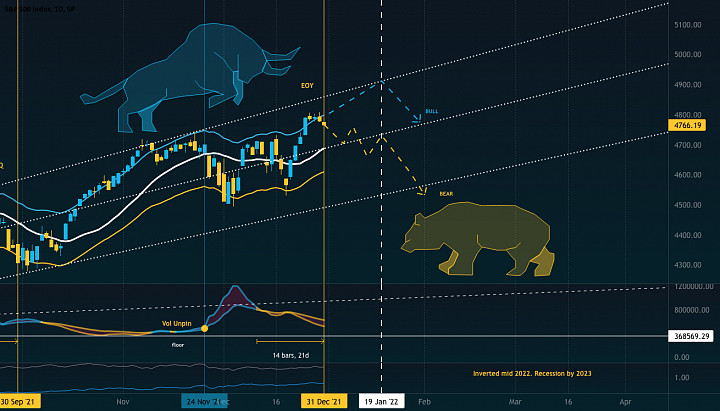 Regardless, be careful out there.
Volatility
is likely to be amplified now that we are in negative gamma space.
We're likely to see BULLs capitulate now which seems to be showing signs of large thrusts lower and higher.