US30USD YM1! Dow 2021 Dec 06
US30USD YM1! Dow 2021 Dec 06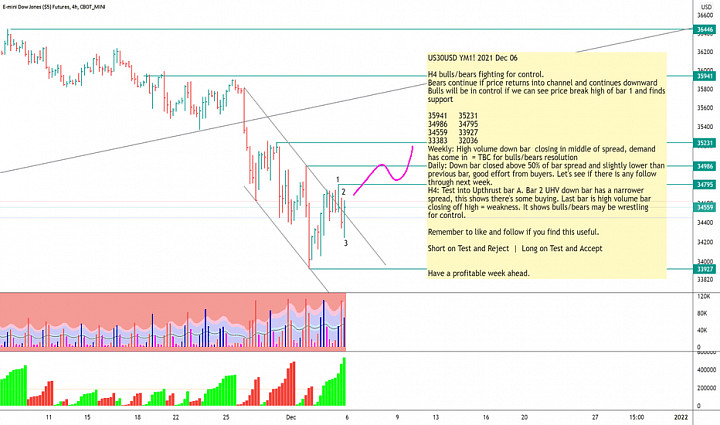 US30USD YM1! Dow 2021 Dec 06

H4 bulls/bears fighting for control.
Bears continue if price returns into channel and continues downward
Bulls will be in control if we can see price break high of bar 1 and finds
support

35941 35231
34986 34795
34559 33927
33383 32036
Weekly: High volume down bar closing in middle of spread, demand
has come in = TBC for bulls/bears resolution
Daily: Down bar closed above 50% of bar spread and slightly lower than
previous bar, good effort from buyers. Let's see if there is any follow
through next week.
H4: Test into Upthrust bar A. Bar 2 UHV down bar has a narrower
spread, this shows there's some buying. Last bar is high volume bar
closing off high = weakness. It shows bulls/bears may be wrestling
for control.

Remember to like and follow if you find this useful.

Short on Test and Reject | Long on Test and Accept


Have a profitable week ahead.