SHORT with from NOVEMBER 2021 - MARCH 2022
SHORT with from NOVEMBER 2021 - MARCH 2022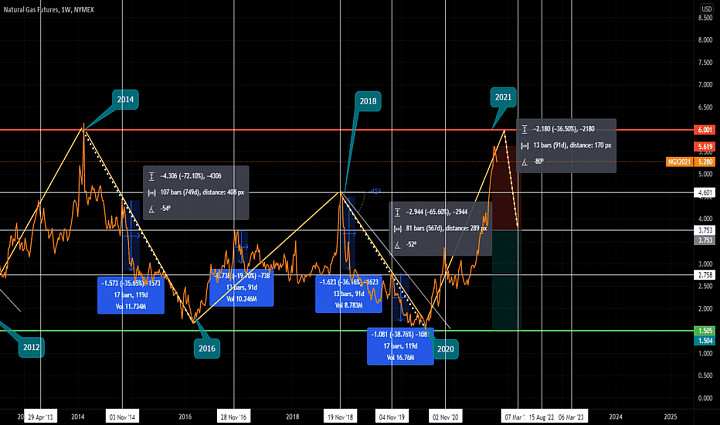 So looking at the past decade of 2010 - 2020 Natural Gas had its Highs in 2010, 2014 and 2018 and Lows in 2012, 2016 and 2020 indicating a 2 year cycle.
During this time period NG had a trading range ranging from basically 1.50 on the Lowside to 6 USD on the Highside with the median being 3.75 USD.
The price of NG seems to reach its highs in between the period of November – December of every year for the past decade with the exception of November 2015 and November 2017 most likely due to the commodity cycle crash earlier in the 2014 -2015 period.

Now from this November – December highs the price decreases around about 35% for a period of between 90 - 120 days up unitil around March –April. The reason most likely for this is due to the swith in demand for winter to summer gas. The exception seems to be the year 2016 but once again I believe it can be attributed to the commodity cycle crash mentioned before.

In 2 cases the price of NG decline by 65% over a 2 year period from the Highside to the Lowside and in one case it decline by 72% over a 2 year period.

I do believe NG wil go higher until December 2021 but not reach 6 USD after which it will decline by around 35% over a 90 -120 day period. Based upon this information I will SHORT NG up until March 2022 by using a ETF Denominated in USD to take advantage of potential interest rate hikes in the future and using the technological advantage of SHORT 3 X LEVERAGE for Natural Gas with a expected return of atleast 105% and price target of around 3.75 USD. After March 2022 – April 2022 I will re-analyse the situation during the time period to determine continue SHORT or not.