NQ - 1Hr Arrangement / Organization / Complexity
NQ - 1Hr Arrangement / Organization / Complexity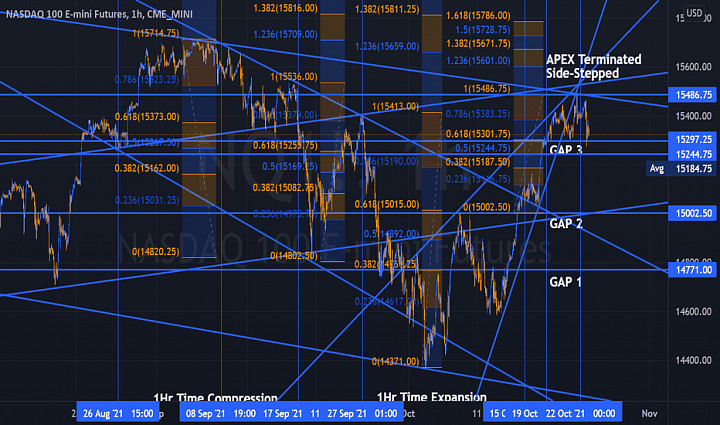 Weekly Duration close Week over Week:

Prior Week @ 15134.50

Week End @ 15341.00

The Range for Closing Week @ 15037.75-15483.75

Price broke the prior Week's close @ 15134.50 by 96.75 Ticks.
This is important as we see this pattern emerge time and again.
It permits the alleviation of Elevated Indicators.

As this occurs, ranges widen until they begin to compress on the
Weekly Timeframe . A Negative condition that requires time to
resolve.

When it completes - it resolves Down.

In the interim, it creates Intra-Day Ranges which, although large
and volatile - begin to decrease. As Time expands and
compresses - we observe this specific Price action in both BUY/SELL.

From the Ledge of 15399.25 to the lows for this Week @ 14537, the
Range was 862 Ticks.

The following Week - 15001 - 14367 / 634 Ticks.

A Counter-trend confirmation we indicated as Price reached the
Lower Trend Line of the Larger Timeframes.

We indicated 2X confirmation, suggesting it would be Gap 2 Trap
or Gap 2 Fill - exiting the SELL and beginning Micro TF BUYs to scalp
without "Positions" into the Counter-Trend.

Entering on Close for Globex Session and during RTH , closing O/N
Session prior to NYSE Open while scalping the RTH Session at
Intra-day time intervals we have provided by Session and Period.

Our Weekly STO Indicator has crossed Positive, the MACD's slope
downward is declining but remains very Negative.

DMI is now expanding with a failure to cross at the low of 14367.75.

Weekly RSI @ 63.332

There remains a Divergence as Volumes are dropping again on the
Weekly.

____________________________________________________________


The 50 is above the 200SMA on the Hourly TF.

NQ has closed within 225 Ticks of the ATHs.

A Chart of the Yield Relationship Ratio to NQ was
added to commentary this week.

AS we saw a clear divergence in this Ratio whereby
as 10Yr Yields were moving higher, the Net Effect
on the NQ was lessening.

Further Divergences are anticipated as Levels remain
elevated for the NQ Short Duration TFs.