FCPO TRADING : 254) INcoming---more reversal signals

FCPO TRADING : 254) INcoming---more reversal signals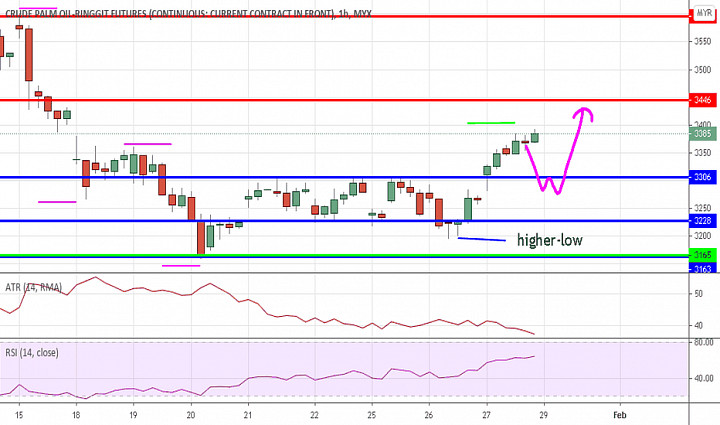 this is haidojo and the number is 254 ...

after hovering in the tight range for some time(a few days), 3170-3300, we witnessed a breakout on wednesday...
price action did not one, but two things,
1) creates an initial new high 2)before that, creates new higher-low too...
so, now the trend has reversed...
if the trend continues creating more and more higher-highs and higher-lows, then we have a new uptrend coming...
then, we turn into buy/long on dip...or buying on retracement...that's the best offer frm the market now...
now, that is not so much info. in this episode, but...trust me...it is probably worth much more than the paid info out there...
hence, giving u guys free for such valuable info...would probably make me...either crazy...or real...ok best of luck


*plan your trade and trade your plan... gud luck*

higher resistance : 3446-3450 (might reverse bear trend)

resistance-turn-support : 3270- 3350

WARNING!
RISK DISCLAIMER : this is juz a trading idea...trading stocks, futures or forex might incur a huge risk to your account/funds…DON'T LOSE MONEY THAT YOU CANNOT AFFORD…any idea(s) of trading in this episode SHALL NOT be regarded as a hint of BUYING or SELLING. It is MERELY a trading journal and it has been used for educational purpose only… trade at your own risk!