GOLD FUTURES - UPSIDE BREAKOUT IN PROGRESS !

GOLD FUTURES - UPSIDE BREAKOUT IN PROGRESS !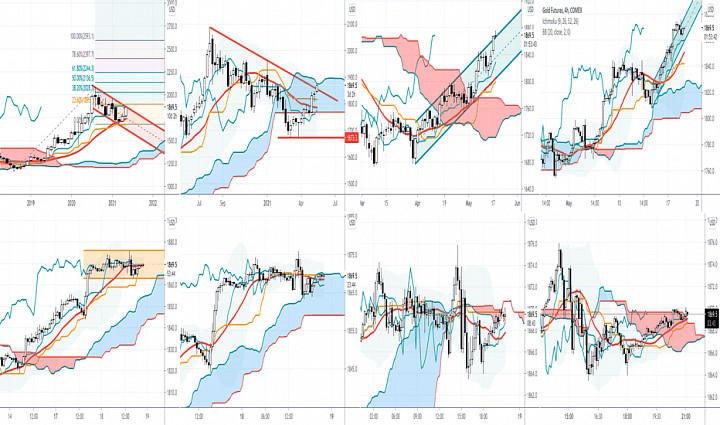 M1 : Resistance downtrend line of the channel under attack.
Above TS .
Next resistance level @ 1895 ahead of 2028, 2136 and 2244
W1 : Downtrend resistance line breakout in progress and more
important, top of the clouds under attack too.
A weekly closing above 1880 would be seen as positive in opening the
door for the targets above mentioned.
D1 : Above the clouds. Ongoing uptrend channel with a attempt to breakout the top of this channel
Watch D1 support zone between 1830 and 1800.
A failure to hold above that zone would put the focus on the clouds zone support
H4 : Above the clouds and the cluster (KS, MBB and TS )
First support @ 1860 ahead of MBB @ 1850
H1 : Above the clouds in a sideways price action (1860-1875)
M30 : Within the clouds. Watch 1860 as mentioned in H4.
M15 : Below the clouds
M5 : Breakout attempt of the top of the clouds in this time frame
CONCLUSION :
GLOBAL PICTURE IS BULLISH FOR GOLD .
WATCH 1760-1750 AS SUPPORT ZONE !
A FAILURE TO STAY AND HOLD ABOVE THIS AREA
WOULD TRIGGER FURTHER SELLING PRESSURE CALLING FOR LOWER LEVELS
TOWARDS THE 1700 AREA, FORMER DAILY CLOSING LOW !