HSI1! 2021 Sep 20 Week
HSI1! 2021 Sep 20 Week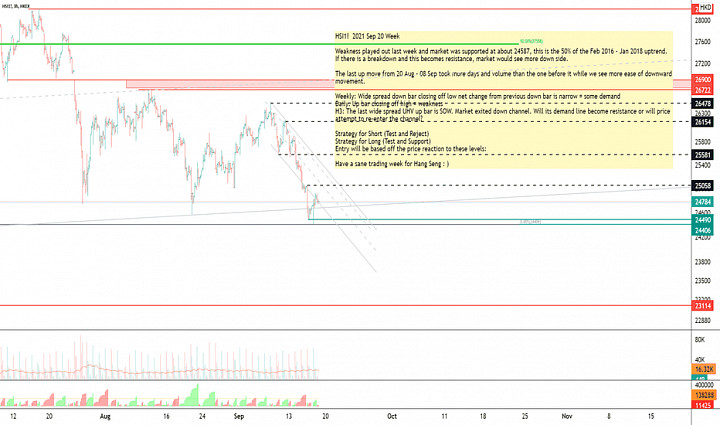 HSI1!
HSI1!
2021 Sep 20 Week
Weakness played out last week and market was supported at about 24587, this is the 50% of the Feb 2016 - Jan 2018 uptrend.
If there is a breakdown and this becomes resistance, market would see more down side.
The last up move from 20 Aug - 08 Sep took more days and
volume
than the one before it while we see more ease of downward
movement.
Weekly: Wide spread down bar closing off low net change from previous down bar is narrow = some demand
Daily: Up bar closing off high = weakness
H3: The last wide spread UHV up bar is SOW. Market exited
down channel
. Will its demand line become resistance or will price
attempt to re-enter the channel?
Strategy for Short (Test and Reject)
Strategy for Long (Test and Support)
Entry will be based off the price reaction to these levels:
Have a sane trading week for Hang Seng : )