Nasdaq Futures - It's Probably Time for a Retracement

Nasdaq Futures - It's Probably Time for a Retracement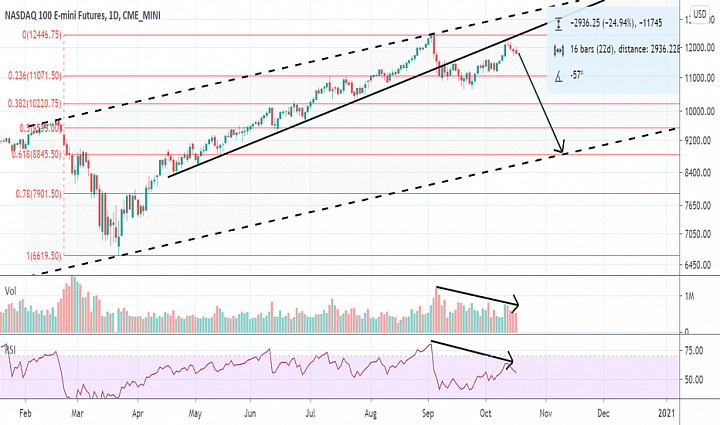 OVERVIEW
The Nasdaq has risen since March without substantially retracing any of the gains. The sell off in September didn't even reach the 0.382 retracement mark but many people now see it as a legitimate correction. This week, equity fund flows have shifted from outflow to inflow for the first time since March. I believe that the market has been in a state of distribution from the beginning of September.

TECHNICALS
On Monday, Nasdaq futures hit the underside of the primary 2020 uptrend in black and ricocheted away. This sets a high below a previous high and is accompanied by deceasing volume throughout the last 6 weeks which continued to fall even as the market rallied in early October. There is also a substantial bearish divergence in RSI over the same time frame.

CONCLUSION
The obvious price target is the intersection between the 0.618 retracement and the bottom of a long-term speculative channel in dotted black.

DISCLAIMER: THIS IS MY OPINION. THIS IS NOT FINANCIAL ADVICE. TRADING INVOLVES RISK.