ES1! / S&P500 / LONG / The Market Has Taken it's Breadth
ES1! / S&P500 / LONG / The Market Has Taken it's Breadth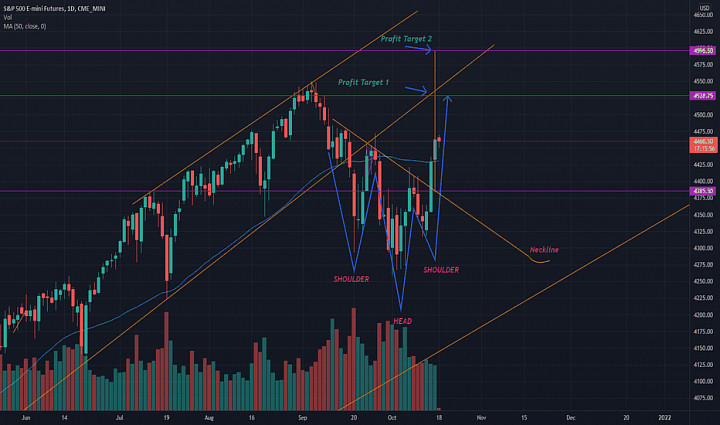 The market has taken it's breadth, and we move ONWARD!

Multiple Bullish signals present for the upcoming trading week.

-Daily Candle closed above the 50day MA
-Classic inverted H&S Pattern
-Profit Target 1: set at 4528.75, this level holds confluence with resistance + prior trend line .
-Profit Target 2: set at 4596.50, this is the price target of the inverted H&S pattern.

This trade will probably play out in 2 separate trades, I have entered at $4460, stop loss set at 4450. I will hold these contracts until PROFIT TARGET 1 is met, selling at that level and watching it closely to see if it can break resistance. IF resistance is broken, I will enter again and aim for PROFIT TARGET 2, selling there. Profit Target 2 may be adjusted based off the price action I see after resistance is broken, but for the time being that's where it's set.

WHEN THE MARKET IS GIVING CLEAR SIGNS, LEAVE IT SIMPLE. THERE IS NO NEED FOR AN IN-DEPTH ANALYSIS.