Surging energy prices further catalysed by OPEC+
Surging energy prices further catalysed by OPEC+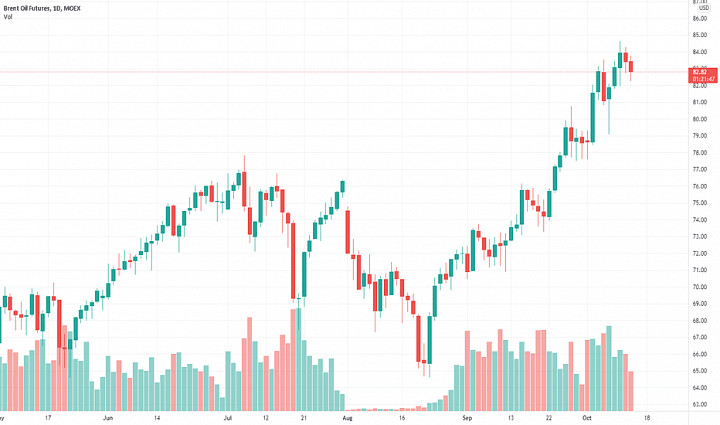 - Mobeen Tahir, Associate Director, Research, WisdomTree

Energy markets are creating headlines. As of 07 October, the Bloomberg Energy Subindex is up around 73% year to date1 (see figure below), with contributions from across the basket. What's driving the individual commodities , how are their stories intertwined, and what might be the risks on the horizon?

Following their meeting on 04 October, the Organisation of the Petroleum Exporting Countries and its partners (OPEC+) have decided against increasing the rate of supply additions. Earlier in the summer, the group agreed to increase production by 400,000 barrels per day (b/d) each month between August 2021 through 2022 – the aim being to bring production back to pre-pandemic levels by the end. The initial reaction in oil markets was that Brent surged past \/BARREL"}==!> – its highest level since October 2018, while WTI also came close to \/BARREL"}==!>, its highest level since 2014.

OPEC+ do not see a clear case for increasing the rate of supply given the risk of Covid derailing demand recovery over the winter. If this risk does not manifest, however, and demand growth is faster than the current rate of supply growth, oil prices may gain further momentum. The initial reaction of oil prices to the group's decision suggests a broad expectation for the supply rate to be increased. Additional supply would not only have served to plug the gap created by Hurricane Ida , which took 1.9 million barrels per day ( mb /d) offline from US supply in August2 but would also have helped quench the higher fossil fuel demand given lower output from wind and solar in many parts of the world, including Europe.

What about natural gas? Prices have been on a tear this year. It started with high electricity demand from fossil fuels over the summer. This is because renewables have not received optimal conditions, particularly in Europe and China this year. As a result, the two regions have competed for liquefied natural gas in international markets. When Hurricane Ida struck the US in August, more than 90% of natural gas production in the Federal Offshore Gulf of Mexico (GOM) went offline3. And while European natural gas prices have retreated since President Putin's suggestion that Russia could solve Europe's gas problem, a very cold winter could create further upside risk for natural gas prices.



Key developments to look out for in the energy space would be:

1. Will Russia alleviate Europe's gas shortages;

2. Might the OPEC+ meet before their next scheduled meeting in November and increase supply to control prices; and

3. Will we see more extreme weather conditions leading up to and during winter?

It would, therefore, not be unreasonable to expect more volatility in energy prices in the coming weeks.


Sources
1 Bloomberg. Based on USD total return.
2 International Energy Agency
3 US Energy Information Administration


This material is prepared by WisdomTree and its affiliates and is not intended to be relied upon as a forecast, research or investment advice, and is not a recommendation, offer or solicitation to buy or sell any securities or to adopt any investment strategy. The opinions expressed are as of the date of production and may change as subsequent conditions vary. The information and opinions contained in this material are derived from proprietary and non-proprietary sources. As such, no warranty of accuracy or reliability is given and no responsibility arising in any other way for errors and omissions (including responsibility to any person by reason of negligence) is accepted by WisdomTree, nor any affiliate, nor any of their officers, employees or agents. Reliance upon information in this material is at the sole discretion of the reader. Past performance is not a reliable indicator of future performance.

To read this content in full, please visit: https://www.wisdomtree.eu/en-gb/blog/2021-10-08/surging-ener...