Simple system says gold bugs can buy dip

Simple system says gold bugs can buy dip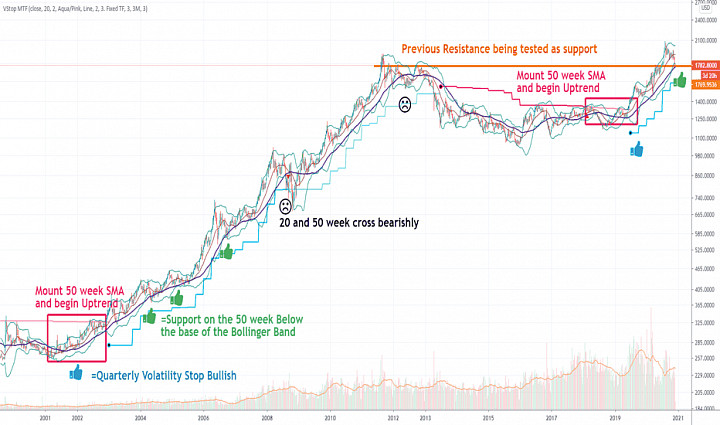 Gold has been consolidating after setting a recent high against the dollar and it is natural we see some consolidation. Price action has seen a slow burn off from the all time high and now is looking at turning previous resistance (from 2011 and 2012) into support.

It is obvious that we have mounted the 50 week simple moving average and we should expect to see retraces to it as gold continues its uptrend. The quarterly VSTOP is going to give you a very wide and broad indicator that the market is bullish and so we can go from selling tops to buying dips. With our trend determined the most advantageous time to buy and get in the money quickly is going to be when price action is out of the bottom of the weekly bollinger band . On a bull run of this magnitude this will be a rare occurrence.

We see in the last bull run we were only at this position three times and they were all at the beginning of the uptrend. We are not going to get this signal that many times before thing go absolutely bonkers. The sad face shows system failure as the 20 and 50 week cross bearishly and a wider sell off begins. With good entries now even if you sell the sad face bottoms what you are buying now should be deep in the money if you sell when the 50 fails.

Tunneling down to the 12 hour chart with the daily and weekly Multiple time frame bollinger bands shows we are clearly out of the bottom of the weekly bollinger band and against a trendline. We don't get there often. As back up we have one of my favorite confirmation indicators, the 9 season rainbow. The blue and fuscia are suggesting we have gone from "oversold" to "crazy oversold."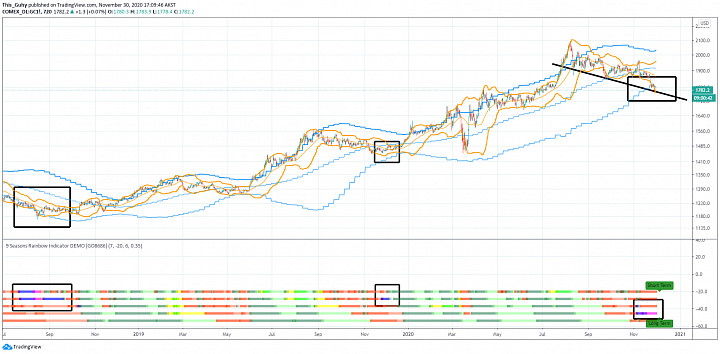 My linked idea is going to show where I used the 9 season rainbow and some
bollinger bands
to nail the bottom of the
SPX
. It was one of my better trades and I still kick myself that I treated it as a trade that I closed to soon and didn't hold. One reason I look at using variations of the VSTOP to help keep me in the trade.
I personally am looking at
gold
to help me time my
silver
buys. I still consider the
gold/silver ratio
to be too high. Where
gold
goes,
silver
soon follows so I shall be buying more
silver
over the next couple of pay days.