So here we are... Trend continues. Palladium ATH today!

So here we are... Trend continues. Palladium ATH today!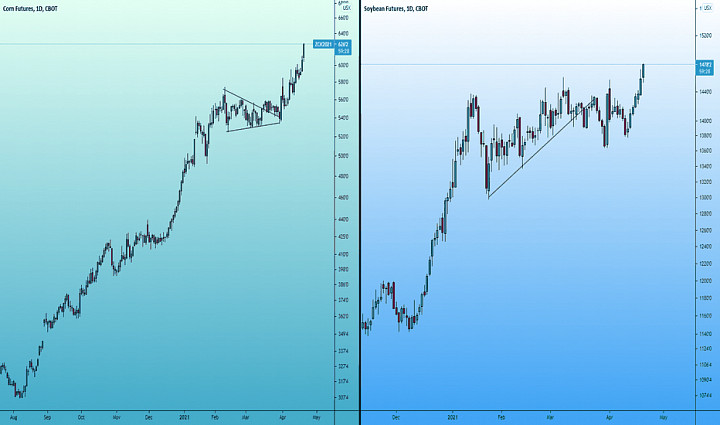 Bulls exhausted the bears finally.
I got kicked out of soybeans and missed buying corn at the bottom of the triangle by little, I was too slow to decide and to look into it I think.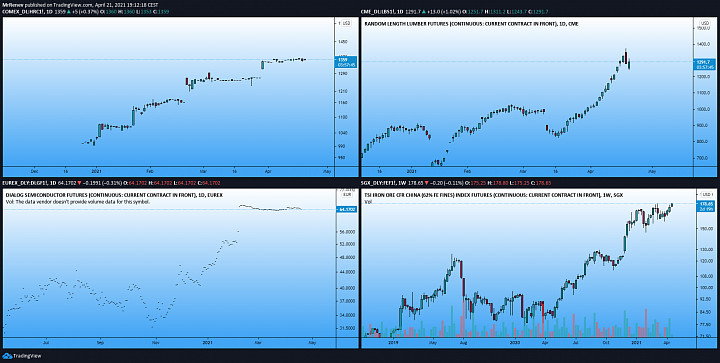 Commodities
are going up.
Gold
not so much, investors are not interested.
But metals used in the real world, prices are all going up.
Today Palladium marked a new all time high.
Copper
is 38 cents away from its
ath
, it retraced more than 90% only 6-7 to go.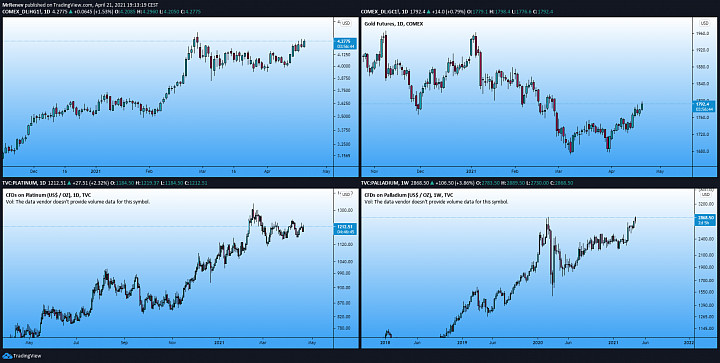 Hard
commodities
like lumber got a lot of attention but while no
one
was watching food it kept going up.
And we got used to plentyful food, no
one
can imagine the west struggling to buy it,
Corn
&
Soybeans
are not far from
ath
.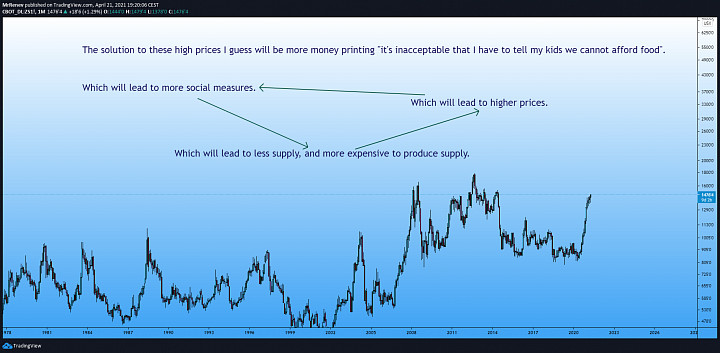 China did an outstanding move by developing their financial markets (and conquering Hong Kong for its financial center - I'm just looking at the economics not here to argue about ethics & politics), to allow them starting to distance themselves from
CME
/American prices.
One
has to admit regardless of what "side" they're on, that sometimes, when the leaders are intelligent, the planned economy can do something right.
Makes no sense to have irrational biases. If I offend someone well nothing I can do, just post silly indicators that no
one
made money from? Complete waste of time.
Less influence from the American economy in general, american commodity market prices, american fundamentals, american currency.
China got away from the building just before it collapses, just like in action movies where the fuse has 2 seconds left.
I really wish I didn't miss. I think I want to stay away from
Corn
as it has been the leader but I think
Soybeans
will be the next
one
.
Now all I have to do is wait for a pullback, around 1525 preferably.
I knew an explosion was imminent, but can't predict exactly when nor the random
volatility
.
This happens really often to me, being so right but missing out, I wish I had the ability to just buy a call for these.
Already rich people get that option, not me.