GC1! Gold 2021 Sep 20 Week
GC1! Gold 2021 Sep 20 Week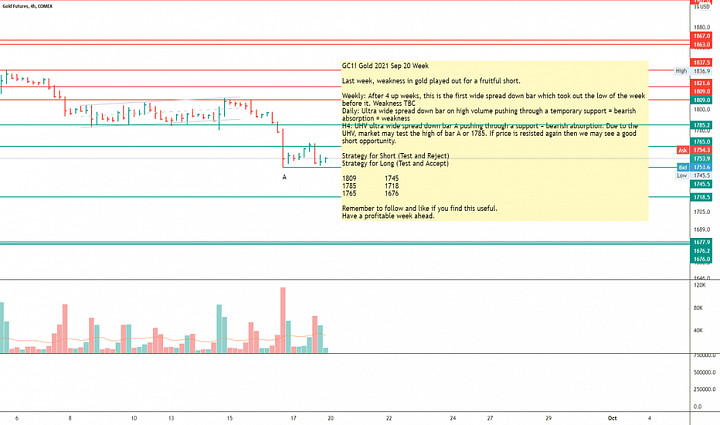 GC1!
Gold
2021 Sep 20 Week
Last week, weakness in
gold
played out for a fruitful short.
Weekly: After 4 up weeks, this is the first wide spread down bar which took out the low of the week
before it. Weakness TBC
Daily: Ultra wide spread down bar on high
volume
pushing through a temporary support =
bearish
absorption = weakness
H4: UHV ultra wide spread down bar A pushing through a support =
bearish
absorption. Due to the
UHV, market may test the high of bar A or 1785. If price is resisted again then we may see a good
short opportunity.
Strategy for Short (Test and Reject)
Strategy for Long (Test and Accept)
1809 1745
1785 1718
1765 1676
Remember to follow and like if you find this useful.
Have a profitable week ahead.