April 11 Market Update

April 11 Market Update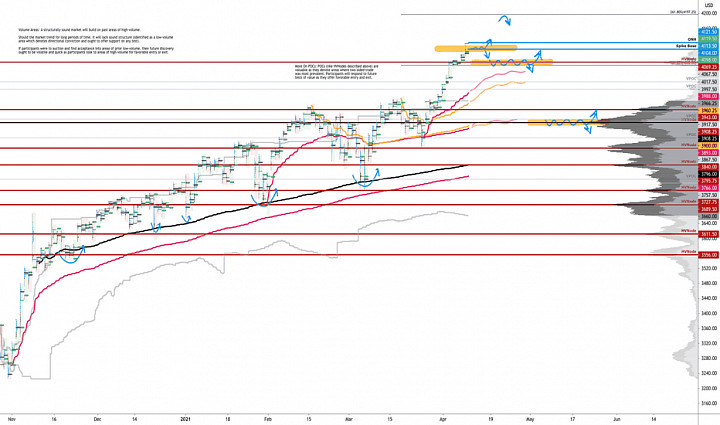 In the coming sessions, participants will want to pay attention to where the S&P 500 trades in relation to Friday's end-of-day spike higher.

More On Spikes: Spike's mark the beginning of a break from value. Spikes higher (lower) are validated by trade at or above (below) the spike base (i.e., the origin of the spike).

In the best case, the S&P 500 remains above the $4,104.00 spike base. Doing so means that the participants are validating the prices caused by the late-day knee-jerk rally.

In the case of higher prices, given that the 161.80% and 127.20% Fibonacci price extensions were achieved, and after-market trade established an overnight high at $4,121.50, participants can target prices as high as the $4,197.25 price extension.

More On Overnight Rally Highs (Lows): Typically, there is a low historical probability associated with overnight rally-highs (lows) ending the upside (downside) discovery process.

Any activity below the $4,104.00 spike base puts the rally on hold and calls for balance or an attempt to digest higher prices.

Balance (Two-Timeframe Or Bracket): Rotational trade that denotes current prices offer favorable entry and exit. Balance-areas make it easy to spot a change in the market (i.e., the transition from two-time frame trade, or balance, to one-time frame trade, or trend).

In the case of lower prices, participants can look to whether a test of the $4,069.00 high-volume area (HVNode) solicits a response. If not, initiative trade could take prices as low as $3,943.00, the next most valuable price area in the chain.

More On Volume Areas: A structurally sound market will build on past areas of high-volume (HVNode). Should the market trend for long periods of time, it will lack sound structure (identified as a low-volume area (LVNode) which denotes directional conviction and ought to offer support on any test).

If participants were to auction and find acceptance into areas of prior low-volume, then future discovery ought to be volatile and quick as participants look to areas of high volume for favorable entry or exit.