GC1! Gold XAUUSD Possible topping pattern

GC1! Gold XAUUSD Possible topping pattern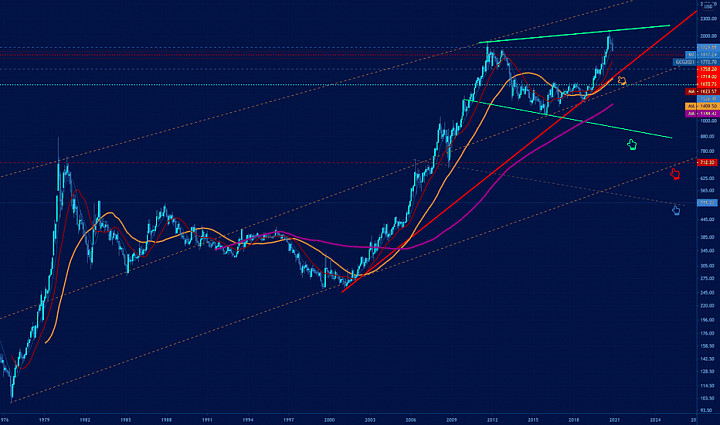 GOLD NEUTRAL to SHORT Long term play.

Gold 4th month red down 16% from the highs, nears bear market "definition" . Gold is now < 9d/20d/50d/9w/20w SMA at the critical 50w SMA .. and
Key Horizontal support.. 50w fails here look for 20month SMA next 1623ish.. that level to 1550 red line uptrend and 50month SMA fail to provide support, the door opens to much lower levels.. possible 850, 750, 715 the 1980's high.

Look for the explosion up on DXY the USD on the fall of the EURO or other Emerging Market defaults, and the rush to the USD.

If we are in Asset Bubble, from Fed Printing, ... Stock Market, Real Estate, CRE, Art world, etc etc all in bubbles, and gold is one of those assets, contrarian to the belief of many. Bubble bursts, look for all assets to be sold to cover margin, losses, etc

Could take 2-5yrs to play out, would need to see extreme strength in DXY . DXY long term charts see potential for 125.oo ish 2000 DotCom highs, upper channel on DXY could see 135 to 165 .. that would translate into a 25-50% increase in USD = 25-50% decrease in gold based in USD.