Week 38: ZSX 2020 is breaking the limit?

Week 38: ZSX 2020 is breaking the limit?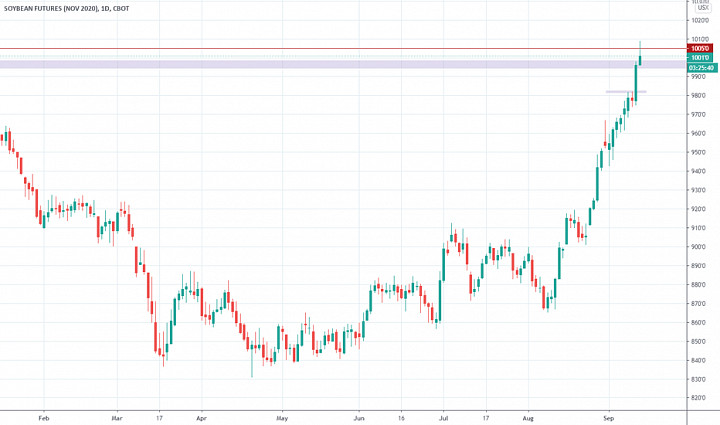 I am going to layout three signs for this week for ZSX2020:

(1) The limit breaker at $1,005 zone, if today the price is closed at $1,005 or higher, then the sky is the limit.
It will soar to the unchartered territory, no reference to the historical price as to how high it will go to the north to meet the white walker.

(2) The mid-zone at $998 to $994.
This zone is a resting zone, if the price come and visit this area, it is likely the price will look for momentum to go higher.
In point #1, if the limit is broken, it will fly immediately to the sky. However, in point #2, the price will make a pullback first to bounce higher.

(3) The confirmation at $983.
The overall outlook now is Super Bullish , it doesn't matter which Time Frame you are looking at the price.
The momentum candle is super strong, we only can safely say that the trend is changing, when the price is closed at $983 or lower.
Anything above $983, the price is still with Buyer territory.

No trade this week as there is no confirmation, even we can say that right now is still bullish , BUT it gives us a dilemma.
=> If we want to long, we do not know our exit strategy as there is no reference. It could be a false bullish move; after going $1,005 then closed below $1,000. Then we will be caught in a false move and the price will plunge very fast.
=> if we want to short, we are against the trend and momentum, this is also a risky move.

Therefore, for this week, we better sit tight and watch. I will update again in mid-week (Wednesday) if there is a confirmation move.

Disclaimer:
The analysis above for educational purposes only, I do not responsible for your losses. Please adjust your own lot-sizing according to your appetite.
If you are benefiting from my trade opinion, please buy me coffee .
As always, move your SL when you are in the profit zone.