COFFEE WK1: 100% Gains SWING setup BUY/HOLD(NEW)(SL/TP)
COFFEE WK1: 100% Gains SWING setup BUY/HOLD(NEW)(SL/TP)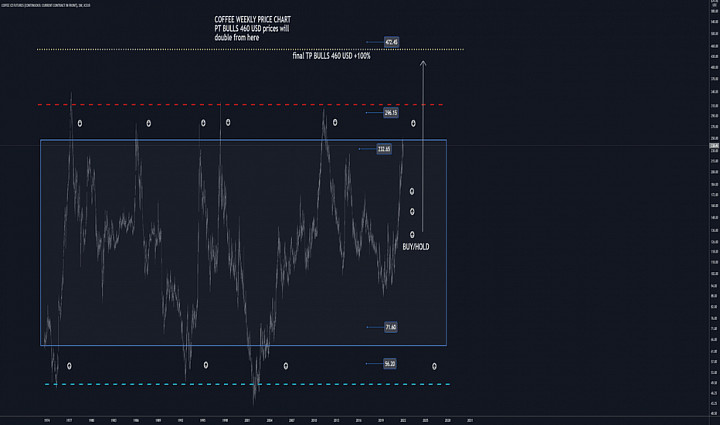 Why get subbed to me on Tradingview?

-TOP author on TradingView
-2000+ ideas published
-15+ years experience in markets
-Professional chart break downs
-Supply/Demand Zones
-TD9 counts / combo review
-Key S/R levels
-No junk on my charts
-Frequent updates
-Covering FX/crypto/US stocks
-before/after analysis
-24/7 uptime so constant updates

🎁Please hit the like button and
🎁Leave a comment to support our team!

COFFEE WK1: 100% Gains SWING setup BUY/HOLD(NEW)(SL/TP)
IMPORTANT NOTE: speculative setup. do your own
due dill. use STOP LOSS. don't overleverage.

🔸 Summary and potential trade setup
::: COFFEE WK2 chart review
::: chart is LOG SCALE
::: setup still valid expecting
::: 100% gains final TP BULLS
::: global inflation driving prices
::: also global warming heavy impact
::: cycle high for the market is near
::: 440/460 USD BULLS control the market
::: 12/24 months as global economy
::: is starting the recovery right now
::: BULLISH CYCLE is ON BUY DIPS
::: BUY/HOLD get paid / swing trade setup
::: BUY ANY DIPS / final TP bulls is 460 USD
::: 100% upside from current market price
::: WAIT for dips and reload (BULLS)
::: recommend to BUY/HOLD
::: recommended strategy: BUY/HOLD
::: bullish super cycle in coffee market
::: SWING trade setup do not expect
::: fast/miracle overnights gains here
::: good luck traders
🔸 Supply/Demand Zones
::: 100USD fresh demand zone
::: 460USD fresh supply zone
🔸 Other noteworthy technicals/fundies
::: TD9 /Combo update: N/A
::: Sentiment short-term: BULLS / MORE GAINS
::: Sentiment outlook mid-term: BULLS / SUPER CYCLE

RISK DISCLAIMER:
Trading Crypto, Futures , Forex, CFDs and Stocks involves a risk of loss.
Please consider carefully if such trading is appropriate for you.
Past performance is not indicative of future results.
Always limit your leverage and use tight stop loss.