Dow Jones Entries and Exits

Dow Jones Entries and Exits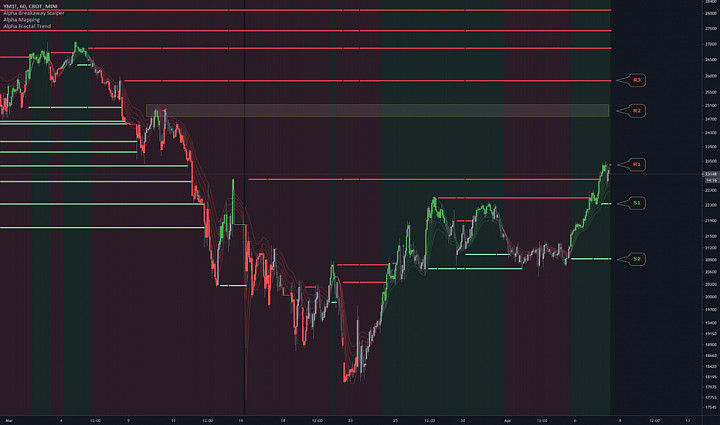 Looking at the Dow Jones by charting Dow Jones Mini Futures ( YM1! ) to find exits and entries in the current uptrend on the 1 hour.

We got a long signal from our Fractal Trend indicator (background color) plus our Breakaway Scalper (bar color) on April 5th.

Since that trade is already well underway, and since the previous bearish order blocks were already used as potential take profit levels, the next move is to look for a long entry or re-entry.

Currently eyeing the support at the bullish order block created at S1 illustrated by our Alpha Mapping indicator to enter or re-enter a long position. Assuming that entry, targets would be the resistance levels at R1, R2, and R3 created by previous ranges.

If S1 doesn't hold, will be looking at S2 for support. However, a retest of S2 means a break in the momentum of the current uptrend which isn't ideal with a setup focused on trading with momentum and the trend.

With that noted, beyond looking for long setups, we will be keeping an eye on R1, R2, and R3 for a reversal of the trend and for short setups. Will be looking for confirmation from Fractal Trend and Breakaway Scalper for that.