FCPO TRADING : 272) uptrend persists

FCPO TRADING : 272) uptrend persists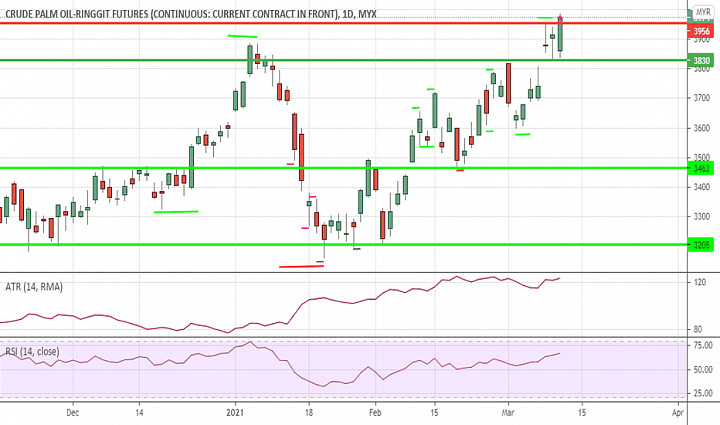 this is haidojo and the number is 272 ...

after hanging in tight range for a few days, fcpo-may has stricken again!
the market has gripped the uptrend flight again and now we can see the bull is dancing towards an uptrend staircase...
what is interesting though is now we have past the previous high which was formed in early Jan this year, ranging frm 3830-3880...
again, we have entered into the territory which was only appeared some 10 years ago...! Yes, the price which only showed up in 2011...
now, this time it is unsure whether fcpo will shoot all the way up to challenge those level again...or subdue to the selling pressure...
we anticipate the price to retest the level of 3890 - 3967...(You can look back in Jan 7th 2021 episode in the link below)

however, something to take note is...fcpo-may is going to end soon...it will expire in a few more days...until next Tuesday, on 16th March 2021, then the new fcpo-June will emerge...whether fcpo-june will continue this bullish sentiment or sudden reverse to the bearish call is still too early to say...let's see what is expecting us next week...

*plan your trade and trade your plan... gud luck*

higher resistance : 4334 - 4486 (high in 2008)

current resistance : 3890 - 3967 (high in 2011)

support : 3830-3880 (resistant-turn-support)

WARNING!
RISK DISCLAIMER : this is juz a trading idea...trading stocks, futures or forex might incur a huge risk to your account/funds…DON'T LOSE MONEY THAT YOU CANNOT AFFORD…any idea(s) of trading in this episode SHALL NOT be regarded as a hint of BUYING or SELLING. It is MERELY a trading journal and it has been used for educational purpose only… trade at your own risk!