Russel Mark-up.

Russel Mark-up.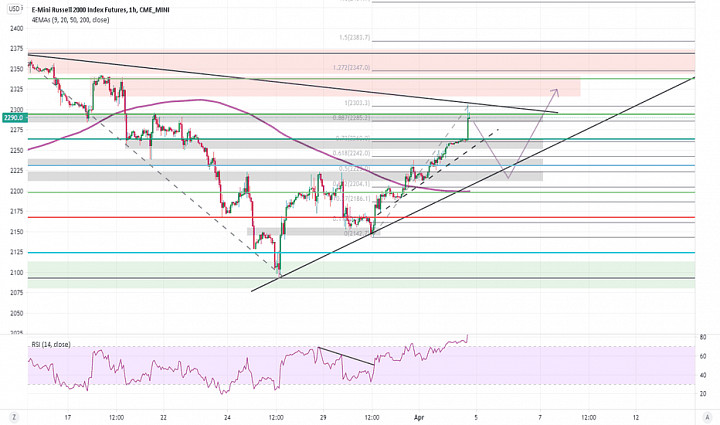 I think it is short in the near future, but long overall. I saw a similar thing happen last week Sunday. Rally hard to close week, big selloff to start new week, then a full week of rallying. I don't see anything that's changed.

Long term I think Russel is looking bullish . I feel like it's a little extended at the moment, so I think we should expect some correction. Retail traders, I don't know where you could possibly get in as a buy unless price goes way down from current locality. .382 saw a lot of activity. Maybe price will revisit, but bullishness is the attitude currently. Short sellers, I see some big juicy demand zones, but understand you are selling against the dominant momentum.

If we want to play the return to the closer trendline it's almost a 30 point drop down. Also, Russel is currently resting in a divergent/oversold state. Very tempting.

My risk manager is keeping me out of placing any orders, but I am trying to get in the habit of marking up charts over the weekend and seeing how the prophecies unfold.

If I were persuaded to go short I'd put my stop above the high wick. Realistically, I would have to see how the markets open and then play it from there.

I hate to miss out on a market opening rally. That is my biggest source of FOMO.

I did not like making this.