ES - Ridiculous is the New Norm 11/25/2020

ES - Ridiculous is the New Norm 11/25/2020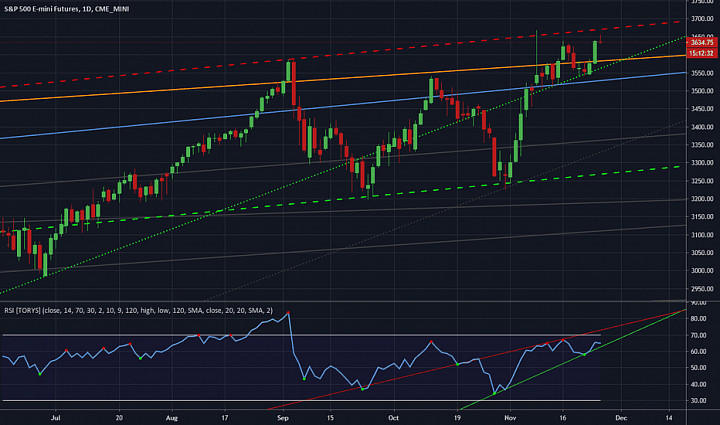 ES at the daily view.

Welcome to 2020 where "ridiculous" is now an average Tuesday. The only thing that hasn't changed are permabears complaining every single day. What has changed are the permabulls are now more annoying.

The rotation from growth to cyclical definitely blew away shorts. In fact, financials, energy, and industrial were among the most shorted sectors since April. Now with this rotation, those shorts were just relentlessly hunted. It's also why RTY has been rising like no tomorrow. Would there be a pullback? That depends on how many shorts are left. If we do pullback, what are the chances that there are a lot of trapped shorts below - waiting to get out? Pretty high. When the ES pulls back, there will likely be some big bounces on the way down.

That's the irony behind permabears. They wish for a crash as big as March 2020. However, it's their trapped shorts and short covering that kept the rally going all this time. Basically, permabears' worst enemies are other bears (not the Fed).

When will the ES pullback? No idea. It's always harder to time a top than a bottom. There are no reliable resistances at these levels. VIX is still forming a bottoming pattern. This week is also a Holiday Week which are notoriously low volume . Meaning, sellers are unlikely going to appear this week. There might be a mini-pullback tomorrow, but I'm not expecting anything grand. VIX did hit a support level . Judging by the low volume price action, the momentum seems to be sideways to up.

I'm steering clear of ES until it pulls back. I am not confident at all where the resistances are. However, I am much more confident of where the good supports are.