AEX: the top is near!

AEX: the top is near!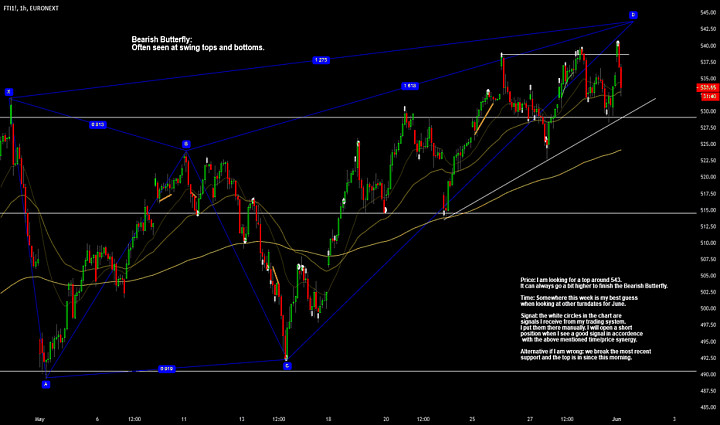 Hi to my fellow Dutch stockmarket 'liefhebbers' and others from around the world!

I have been tracing this Bearish Butterfly for more than a week now. This might very well point to the top of the bearmarket rally from March. A sidenote: Harmonics are valid WHEN THEY ARE VALID... Until that time, it is a pattern that seems to be in progress but proof is always NEEDED! I learned this the hard way. ;) Hard data is what makes money for me in the market, not what I think...

I expect a bearish June with a 'nice' bottom in the beginning of July. I have some good cycles pointing to mid June and the beginning of July for bottoms. I won't give exact dates, I learned my lesson from past efforts of sharing knowledge for free. :)

Besides the stockmarket, bad things will start to happen very soon in the world. For me 'the sword' (war) is around the corner. Daniel speaks about this as well as Leviticus 26 (the curses).

I can testify this: when I started to know Yeshua (Jesus Christ), and begged/prayed for help in my life (in all aspects of it) and I starting reading the bible (I was in so much pain physically and in the end always lost in the market), He was there. He blesses who seek Him and follow Him (believe in Him, testify of Him and keep his Torah, John 14 verses 15/21/23/24).

I wrote this for you to think about when you see things happening and have no hope in difficult times ahead. There is hope, always! His name is Yeshua (salvastion)!

Questions or comments? Feel free to post them!

Shalom,

Im

Disclaimer: always think for yourself and search for the truth.