russell 2000. same setup as yesterday essentially.
russell 2000. same setup as yesterday essentially.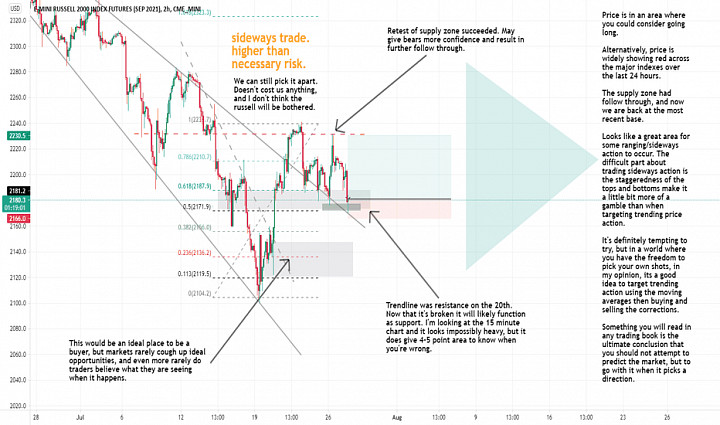 time has elapsed, therefore, more data is available. As much as we would all love it if the charts were frozen in time so we could analyze them endlessly, they aren't. Still, by operating on the higher time frame we can see structures that have some staying power. The structures I identified yesterday, I can now talk a little more about.

I would like to see a ping pong event of price going back up to the 2230 region, but only time will tell. The market reflects global market sentiment and not what I think would be nice.

The nasdaq is my favored instrument because of it's volatility surrounding the open. It dropped almost 200 points this morning, which is nearly 4k per contract. I wouldn't have caught the whole move, and it's not a great idea to be totalling up your woulda-coulda-shoulda trades, but if you are having uncertainty where to focus yourself you can view that voice as a primitive guidance system. It probably won't go away until you put it's suggestions to the test.